Brenda Schulman receives Ernst Jung Prize for Medicine 2019
Brenda Schulman, head of the department "Molecular Machines and Signaling" at the Max Planck Institute for Biochemistry in Martinsried, receives the Ernst Jung Prize for Medicine 2019 together with the neurobiologist Gary R. Lewin from Berlin. The prize money of 300,000 euros is shared equally. Brenda Schulman receives the award in recognition and continuation of her groundbreaking work on the mechanisms of ubiquitin transfer at the atomic level. The Ernst Jung Prize will be awarded today in Hamburg.
On the trail of a "ubiquitous" molecule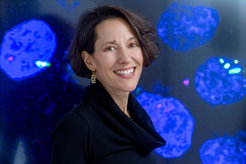 The molecule ubiquitin serves as an intracellular stop signal and controls what happens in a living cell – just as stop signs regulate traffic on the road. The term "ubiquitin" results from the fact that the molecules occur "ubiquitously" in all eukaryotic cells and control a multitude of different biochemical reactions, from cell division to the defence against bacterial infections. At any given time, each human cell contains thousands of ubiquitin molecules that must be properly placed in different, but specific locations. If their regulation is disturbed, this can lead to diseases such as cancer, neurodegenerative diseases or high blood pressure.
Ubiquitin is an extremely small molecule and can only be seen with extreme magnification, such as under an electron microscope. Professor Brenda A. Schulman, Director of the Department of Molecular Machines and Signalling at the Max Planck Institute for Biochemistry in Martinsried, and her colleagues have developed numerous methods with which the ubiquitin system can be further investigated. They use approaches from chemistry, cell biology, mass spectrometry, biochemistry and structural biology. "I have the feeling that I have been on a treasure hunt for more than 20 years and that I can now finally see the treasure chest from a distance for the first time," enthuses Brenda A. Schulman. "Thanks to the new methods, we are only now beginning to see the very first wonderful treasures. And since ubiquitin is so omnipresent, there is a whole treasure trove to discover. This is enormously exciting!"
The 51-year-old researcher comes from Tucson, Arizona. She discovered her passion for chemistry and biology and for how molecules perform amazing processes back in the third year of high school. In addition to her research, she regularly runs and enjoys free time with her husband.
About the Awardee
Schulman received her Bachelor's degree in Biology at the Johns Hopkins University, Baltimore, MD, USA. After her PhD at M.I.T. in 1996, Cambridge, MA, USA, she was a postdoc at Massachusetts General Hospital Boston, MA, USA and at Memorial Sloan-Kettering Cancer Center, New York, NY, USA. In 2001, Schulman moved to St. Jude Children's Research Hospital in Memphis, TN, USA. There she worked from 2005 to 2017 as a Howard Hughes Medical Institute Investigator. In 2016, she became head of the department "Molecular Machines and Signaling" at the Max Planck Institute of Biochemistry. Since October 2018, she is honorary professor at the TU Munich. She received various awards, among them the USA Presidential Early Career Award for Scientists and Engineers. She is an elected member of the American Academy of Arts and Sciences, the National Academy of Sciences in the USA, and the European Molecular Biology Organization.
About the Prize
The Ernst Jung Prize for Medicine is one of the highest endowed medical awards in Europe and is the foundation's medical award with the longest tradition. It was issued for the first time in 1976. The Ernst Jung Prize for Medicine is currently endowed with €300,000 and is awarded to researchers who have contributed considerably to progress in human medicine with their projects and are also expected to do so in future. It honours work in the field of human medicine which is of particularly great clinical significance and may result in new, effective approaches to treatment being implemented in practice. The laureates of the Ernst Jung Prize for Medicine rank among the top representatives in their discipline. All of them have received other major awards over the course of their careers, including two Nobel Prizes for Medicine.