Brenda Schulman receives ERC Advanced Grant
Max Planck Director Brenda Schulman receives a research grant from the European Research Council (ERC), endowed with nearly 2.1 million euros, with which she will discover crosstalk between the ubiquitin system and metabolism.
Martinsried. Brenda Schulman, Director of the department Molecular Machines and Signaling at the Max Planck Institute (MPI) of Biochemistry in Martinsried, will receive an Advanced Grant from the European Research Council (ERC), worth nearly 2.1 million euros. Schulman and her team will investigate the crosstalk between two major cellular regulatory pathways, the Ubiquitin-Proteasome System (UPS) and metabolism, in the UPSmeetMet proposal. The UPSmeetMet project will discover cellular mechanisms controlling immune responses, proper human development, and cardiovascular health, and will also decipher pathways that are dysregulated in cancers.
The Ubiquitin-Proteasome System, UPS for short, is responsible for eliminating unwanted, superfluous or toxic proteins that would otherwise damage our cells. Over the past few decades - including through support from a current ERC Advanced Grant - Schulman and her team have deciphered the complex "molecular machines", called E3 ligases, that ensure that the UPS destroys only those proteins whose functions should be terminated. It is crucial that the UPS spares the majority of proteins, which should not be eliminated because they are required for ongoing cellular functions. Cellular health also depends on proper metabolism, which involves the production and breakdown of numerous different small biological chemicals, including sugars, fats, and other molecules that are collectively called "metabolites". Metabolites can act as fuel to support bodily processes, and can act as signals that switch molecular machines on and off. However, we have limited understanding of how the UPS controls metabolism, and vice-versa.
The UPSmeetMet Project
In her new project, UPSmeetMet, Schulman and her team will use state-of-the art methods, and develop new technologies, to understand how molecular machines, the E3 ligases, specifically recognize and control metabolic enzymes that cells need to destroy. This is important to prevent unwanted buildup of metabolites, for example glucose or cholesterol. The research will also decipher how metabolites switch E3 ligases on and off inside living cells. Schulman's team hypothesizes, feedback between the two cellular regulatory systems ensures cellular health. The new studies are made possible by combining data from several breakthrough technologies, including in the fields of mass spectrometry and microscopy, which have been advanced in recent years at the MPI of Biochemistry. The UPSmeetMet project focuses on cellular pathways controlling immune responses, proper human development, cardiovascular health, and also pathways that are dysregulated in cancers. Schulman and her team hope that the research could provide foundations for new therapies in the future.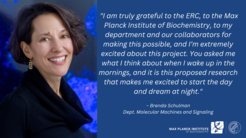 About Brenda Schulman
Schulman received her Bachelor's degree in Biology at the Johns Hopkins University, Baltimore, MD, USA. After receiving her PhD from M.I.T. in 1996, Cambridge, MA, USA, she was a postdoc at Massachusetts General Hospital Boston, MA, USA and at Memorial Sloan-Kettering Cancer Center, New York, NY, USA. In 2001, Schulman moved to St. Jude Children's Research Hospital in Memphis, TN, USA. There she worked from 2005 to 2017 as a Howard Hughes Medical Institute Investigator. In 2016, she became head of the department Molecular Machines and Signaling at the Max Planck Institute of Biochemistry. Since October 2018, she has also been an honorary professor at the TU Munich. She received various awards, among them the Gottfried Wilhelm Leibniz Prize, the Ernst Jung Prize for Medicine and the Louis-Jeantet Prize for Medicine. She is an elected member of the American Academy of Arts and Sciences, the National Academy of Sciences in the USA, the German National Academy (Leopoldina) and the European Molecular Biology Organization.
About the ERC
The European Research Council, ERC, was established by the European Union in 2007 and is the first European funding organization for outstanding research. Each year, the ERC selects and funds the best and most innovative researchers of all nationalities and ages to carry out their projects in Europe. The ERC awards four types of grants: the Starter Grant, the Consolidator Grant, the Synergy Grant and the Advanced Grant. The Advanced Grant supports established and independent top scientists who are leaders in their respective field of research and is endowed with a sum of up to 2.5 million euros.