Petra Schwille receives Carl Zeiss Lecture 2020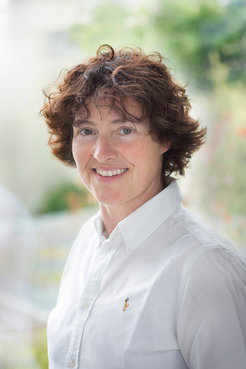 The German Society for Cell Biology (DGZ) and ZEISS honor Petra Schwille, Director at the Max Planck Institute of Biochemistry, with the Carl Zeiss Lecture. With this award, the DGZ internationally acknowledges her major contributions to Cell Biology, in particular the introduction of fluorescence cross correlation spectroscopy for understanding fundamental aspects of life.
What is the minimum equipment required by the cell as the smallest living unit in an organism? Petra Schwille is looking into this question with her department "Cellular and Molecular Biophysics". Together they aim to (re)construct cellular processes and ultimately minimal living cells from dramatically simplified functional subsystems such as proteins and protein assemblies. The microscope is not sufficient to observe the interactions between the single, tiny molecules in the cell and the processes underlying them. The Biophysicist has therefore developed the fluorescence cross correlation spectroscopy, a method which visualizes processes in and around the cell. This method allows to analyze the dynamics and interactions of fluorescence-labeled molecules with highest resolution down to the level of single molecules.
About Petra Schwille
Petra Schwille studied physics and philosophy at the Universities of Stuttgart and Göttingen. She received her doctorate in the laboratory of the Nobel laureate Manfred Eigen at the Max Planck Institute (MPI) for Biophysical Chemistry. After a postdoctoral stay at Cornell University, Ithaca, New York, USA, she returned to Germany in 1999 to the MPI for Biophysical Chemistry, where she led her own junior research group. In 2002, she was appointed as the the Chair of Biophysics to the Biotechnology Center of the TU Dresden (BIOTEC), which she held until April 2012. Since 2011 she is director at the MPI of Biochemistry and heads the department "Cellular and Molecular Biophysics". Since 2012 she has been honorary professor at the Faculty of Physics of the LMU. Petra Schwille has been awarded several prizes, including the Philip Morris Research Award 2004 and the Gottfried Wilhelm Leibniz Prize 2010. In addition to her scientific work, Petra Schwille is regularly invited to cultural events as an expert on scientific, philosophical and social topics. As a mother of three children, she is actively involved in mentoring young scientists and is often requested for comment on futuristic issues in the media.
About the Max Planck Institute of Biochemistry
The Max Planck Institute of Biochemistry (MPIB) belongs to the Max Planck Society, an independent, non-profit research organization dedicated to top level basic research. As one of the largest Institutes of the Max Planck Society, 850 employees from 45 nations work here in the field of life sciences. In currently eight departments and about 25 research groups, the scientists contribute to the newest findings in the areas of biochemistry, cell biology, structural biology, biophysics and molecular science. The MPIB in Munich-Martinsried is part of the local life-science-campus where two Max Planck Institutes, a Helmholtz Center, the Gene-Center, several bio-medical faculties of two Munich universities and several biotech-companies are located in close proximity. http://www.biochem.mpg.de
[FA]