Press Page Brenda Schulman
The department of Molecular Machines and Signaling was established in July 2017. We focus on understanding how ubiquitin (UB) and UB-like protein modifications direct extraordinary changes in the fates of their targets, such as altering stability, subcellular localization, interactions, or conformation.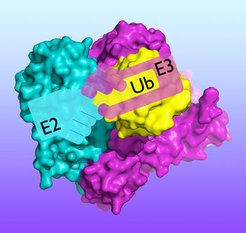 The vision for the department is to combine biochemical reconstitution, structure, enzymology, chemistry, protein design, cell biology and genetics – along with other cutting-edge technologies in collaboration with close colleagues (Especially in neighboring departments) – in an integrated and circular process, with continuous flow of information between methodologies.
---