Bioorganic Chemistry & Biophysics Core Facility (Biochemistry)
The Biochemistry Core Facility is the institute's central unit devoted to scientific services. We are organized under the office of the Managing Director and our methods portfolio covers the following areas:
Biophysics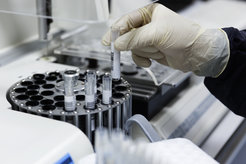 A set of biophysical methodologies for studying protein structure and folding, protein-protein or protein-ligand interactions and protein complex formation is provided as open-access instruments or full service. CD spectroscopy, microcalorimetry, dynamic light-scattering, analytical ultracentrifugation, surface plasmon resonance (Biacore) and ESI-TOF mass spectrometry are available, among others.
Chemistry Support
The Chemistry Service offers the synthesis, purification and characterization of organic compounds (substrates, inhibitors, fluorophores, conjugates, caged compounds etc.).We can also advise you concerning your chemical problems, and will help you in chemical research in databases investigations for the development of new synthetic routes for desired target molecules.
Peptide Synthesis Service
Automated solid phase synthesis of peptides of 4 to ca. 60 amino acids using Fmoc/tBu-chemistry. Characterization and quality control is done by RP-HPLC (purity) and MS (identity) and most common modifications are available. In addition, an amino acid analysis (relative amino acid composition) is available.