Danny Nedialkova selected as EMBO Young Investigator
RNA biologist Danny Nedialkova from the MPI of Biochemistry has been elected into the EMBO Young Investigator Programme for four years starting in January 2022.
 
Danny Nedialkova, head of the Max Planck Research Group "Mechanisms of Protein Biogenesis" at the Max Planck Institute (MPI) of Biochemistry, has been elected into the EMBO Young Investigator Network. As one of 26 life science researchers chosen this year, she will receive financial support and access to a range of mentoring and training programs for a period of four years, starting in January 2022. "It's an honor and a privilege to join the Young Investigator network, and I am excited about the new possibilities this opens up for me and my team," says Danny Nedialkova.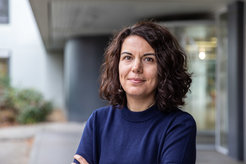 "They have already demonstrated scientific excellence despite only recently launching their own laboratories. The EMBO Young Investigator Programme will aid them in taking their career to the next level. We look forward to supporting them during an important phase of their career." says Michael N. Hall, EMBO Director ad interim.
For the synthesis of proteins, the sequence of nucleic acids, the basic building blocks of genetic information, is translated into a specific sequence of amino acids, the basic building blocks of proteins. This is called the genetic code. Danny Nedialkova's research explores how the genetic code is translated into the thousands of different proteins that make up each cell. Her team uses genome-wide approaches and functional genomics to investigate how protein synthesis is regulated during development and in different cell types.
About Danny Nedialkova
Danny Nedialkova received a doctorate in molecular virology from Leiden University (The Netherlands), followed by postdoctoral work at the MPI for Molecular Biomedicine (Germany) with support from an EMBO Long-Term Fellowship. Since 2017, she leads the Max Planck Research Group "Mechanisms of Protein Biogenesis" at the MPI of Biochemistry in Martinsried. She holds a joint appointment as a Professor for Biochemistry of Gene Expression at the Department of Chemistry of the Technical University of Munich. In 2018, Danny Nedialkova was awarded a Starting Grant by the European Research Council (ERC).
About EMBO
EMBO is an organization of more than 1,800 leading researchers that promotes excellence in the life sciences in Europe and beyond. The major goals of the organization are to support talented researchers at all stages of their careers, stimulate the exchange of scientific information, and help build a research environment where scientists can achieve their best work.
EMBO helps young scientists to advance their research, promote their international reputations and ensure their mobility. Courses, workshops, conferences, and scientific journals disseminate the latest research and offer training in techniques to maintain high standards of excellence in research practice. EMBO helps to shape science and research policy by seeking input and feedback from our community and by following closely the trends in science in Europe. For more information: www.embo.org