Advanced ERC Grant for Elena Conti
Elena Conti, head of the department "Structural Cell Biology" at the Max Planck Institute of Biochemistry in Martinsried receives the Advanced Grant of the European Research Council for the second time. It comes with a funding of more than two million Euros for five years. Together with her team, she investigates the interaction of the exosomes and ribosomes. These are the major players in essential cellular processes – governing the synthesis and degradation of RNAs and proteins. Major foundations of planned work were laid by the Conti group in the earlier ERC Advanced Grant, which characterized structure and function of the exosome.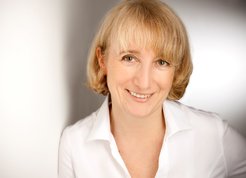 About Elena Conti
Professor Elena Conti studied Chemistry at the University of Pavia in Italy. She received her PhD in Protein Crystallography at Imperial College, London in 1997. After a Postdoctoral fellowship in John Kuriyan's lab at The Rockefeller University, New York, USA, she was appointed Group leader at the European Molecular Biology Laboratory (EMBL) in Heidelberg, Germany in 1999. There she focused her research interest on mechanisms of RNA export to the cytoplasm and the structure and function of the molecular machines involved. Conti has followed the fate of RNA in the cytoplasm since then. She was appointed Director and Scientific Member at the Max Planck Institute of Biochemistry, Martinsried near Munich, Germany in 2006 where she leads the department of "Structural Cell Biology". Since 2007, she is Honorary Professor at the Ludwig Maximilian University in Munich. Conti received numerous awards, among others the Gottfried Wilhelm Leibniz Prize 2008 and the Louis-Jeantet Prize for Medicine 2014. More information you find here.
About the ERC
The European Research Council, set up by the European Union in 2007, is the first European funding organisation for excellent frontier research. Every year, it selects and funds the very best, creative researchers of any nationality and age, to run projects based in Europe. The ERC has three core grant schemes: Starting Grants, Consolidator Grants and Advanced Grants. The Advanced Grant is for well-established top researchers, who are scientifically independent and with a recent high-level research track-record and profile which identifies them as leaders in their respective field(s). More information you find here.