Dieter Oesterhelt (1940-2022)
Former director Prof. Dr. Dieter Oesterhelt of the MPI of Biochemistry passed away on November 28, 2022 at the age of 82.
 
The institute loses a scientist of the highest rank. Dieter Oesterhelt (*10.11.1940 - †28.11.2022) was a Scientific Member of the Max Plank Society and Director of the Department "Membrane Biochemistry" of the MPI of Biochemistry from 1979 to 2008.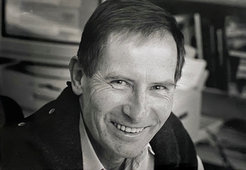 In the early 1970s, Dieter Oesterhelt discovered bacterio-rhodopsin, a light-driven proton pump in the purple membrane of halobacteria. This groundbreaking discovery of an entirely new form of photosynthesis guided his work for decades. The detailed analysis of the structure and function of bacteriorhodopsin resulted in an impressive life's work that initiated new research directions in many ways. For example, he has made conceptually significant contributions to crystallization and thus to the structure determination of membrane proteins. His work on the interaction of light with protein-pigment complexes has created the basis for the field of optogenetics, which is extremly important today.
For this discovery, Dieter Oesterhelt was awarded a number of prizes, such as the Federal Cross of Merit 1st Class, and most recently in 2021 the Lasker Basic Medical Research Award, one of the highest research awards worldwide.He has published approximately 500 original scientific publications and he has been involved in the editorial board of several scientific journals and as a founder and consultant in several biotechnology companies.
With Dieter Oesterhelt, the Institute has lost a renowned and worldwide appreciated scientist and a dedicated promoter of young scientists. We gratefully remember him as an extremely friendly and cordial colleague.