Reiner Heidorn - Cellular diary
Exhibition from 08.01.2022 to 18.02.2022. The exhibition is now open again for external visitors. Please note our current hygiene rules.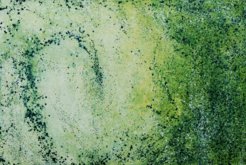 Reiner Heidorn lives and works in Weilheim, Bavaria. The autodidact painter processes in his oversized and mostly monochrome paintings the relationship between man and nature. The desire to unite with nature and even to dissolve in it - Reiner Heidorn gives form and color to this thought. Over the years of his work, he has developed his very own painting technique and gave it a name - "Dissolutio", which means disappearance. His paintings consist of microscopic elements, flowing various shades of green and blue arrange themselves in gentle transitions on the canvas. They suggest forests, lakes, plants up to whole, self-contained, worlds. Thus his artistic work stands in a contemporary discourse of socially current topics such as climate change or the alienation of man with regard to his natural environment. Reiner Heidorn's works have recently been shown in exhibitions in Brazil, Dubai, the USA and in various German and European cities.
Hygiene rules:
The visit of the exhibition by external visitors is possible in pairs according to the daily service hours of the Institute in the following times:
Mon - Fri from 18:00 - 00:00.
Sat - Sun from 08:00 - 20:00 hrs
For visitors to the art exhibition outside our service hours, the same hygiene rules apply from today, 15.12.2021, as currently apply in museums:
2G-plus rule (access only for vaccinated and recovered persons with a current rapid or PCR test) and FFP2 mask obligation.
The rapid test must not be older than 24 hrs, the PCR test not older than 48 hrs.
For "boostered" persons (after 14 days after vaccination) the additional test obligation is omitted since today 15.12. => no test necessary from day 15 after boostering
Wearing a face mask
Sufficient distance from each other (min. 1.50m)
Hand disinfection