Sabine Thiede – facettenreich
Exhibition from 27.11.2021 to 07.01.2022. The exhibition is now open again for external visitors. Please note our current hygiene rules.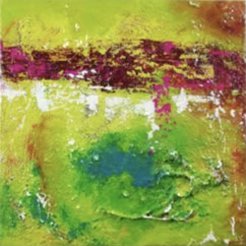 Creativity has many sides
Art - bright, colorful, metallic, earthy and thus extremely versatile. This is what the works of Sabine Thiede show when you see them in front of you. In contemplation of the works of art, you can literally dive into a different world and different techniques can be seen, which can also tell a story.
The native Freisingerin has made it her life's work to touch people with their images and to make the world brighter. Her style, as she says herself, she has not yet found. Everything she tries out is therefore an experiment that produces wonderful results. Painting is movement. To paint, to create something, is an inner need for her. Here she finds distance from the everyday and immerses herself in another world.
Sometimes she works on several paintings at the same time. The wide range of creative, intuitive techniques is reflected in her works and gives her creations a unique charm with a lot of energy. Through the use of different structures that create a three-dimensional effect, their unique pieces get a liveliness, which gives the complexity of the artwork its beauty.
Also manufactured rust or processed coffee can be found sporadically in spatulaed and poured paintings anew. Color-intensive, abstract acrylic paintings are mixed with elements that are instantly accessible. These are, for example, used objects that no longer find a use or natural materials that strayed on a walk the way. In isolated specimens one can recognize a part of our cosmos.
Consequently, the richness of facets of the artist in her representation extends from stony, volcanic nature to the rainbow-colored palette. As a result, each painting seems like a voyage of discovery and it is all in the eye of the beholder, as well as the moment of inner contact.

Hygiene rules:
The visit of the exhibition by external visitors is possible in pairs according to the daily service hours of the Institute in the following times:
Mon - Fri from 18:00 - 00:00.
Sat - Sun from 08:00 - 20:00 hrs
For this purpose, please register with our security staff and show your proof without being asked according to the 3-G rule. Unvaccinated persons must show a test carried out by qualified personnel, which must not be older than 24 hours. In addition, the identity card must be shown for comparison. In addition, the known hygiene measures apply:
Wearing a face mask
Sufficient distance from each other (min. 1.50m)
Hand disinfection
For visitors to the art exhibition outside our service hours, the same hygiene rules apply from today, 15.12.2021, as currently apply in museums:
2G-plus rule (access only for vaccinated and recovered persons with a current rapid or PCR test) and FFP2 mask obligation.
The rapid test must not be older than 24 hrs, the PCR test not older than 48 hrs.
For "boostered" persons (after 14 days after vaccination) the additional test obligation is omitted since today 15.12. => no test necessary from day 15 after boostering
- Sufficient distance to each other (min. 1,50m) -hand disinfection