Petra Herrmann - FEMALE SCIENTISTS MEET NATURE
Exhibition from 04.10.2021 to 26.11.2021. The exhibition is now open to external visitors again.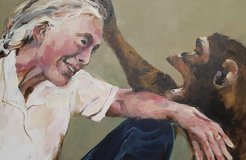 It took a long time for their talent to be recognized, acknowledged, promoted: women in research. Some were even awarded the Nobel Prize.
Petra Herrmann has portrayed a number of natural scientists from different epochs. Among them is the two-time Nobel Prize winner Marie Curie, the botanist Therese Princess of Bavaria, the discoverer of the computer bug Grace Hopper and the behavioral scientist Jane Goodall. You can also see the Hollywood actress and inventor Hedy Lamarr, as well as the designer of the dishwasher Josephine Cochrane and many more.
The partly large-format pictures are painted with acrylic paints on canvas. There are also small watercolors. These pictures are complemented bei natural landscapes.
My special love is drawing, its loose style, its direct spontaneity and its humour. I set the surface against the line. In larger formats I am particularly attracted by the relationship between figure and space and the contrast between delicate colour glazes and powerful tones and structures.
Visits to the exhibition by external visitors are permitted in pairs according to the Institute's daily service hours during the following times:
Mon - Fri from 18:00 - 00:00 hrs.
Sat - Sun from 08:00 - 20:00 hrs.
For this purpose, please register with our security staff and show your proof of identity without being asked in accordance with the 3-G rule. In addition, the familiar hygiene measures apply:
Wearing a face mask
Sufficient distance from each other (min. 1.50m)
Hand disinfection