Andreas Eiserbeck - PEOPLE AND NATURE FROM THE CARIBBEAN TO PARIS
Exhibition from 18.06.2021 to 30.07.2021. Due to the current situation, the exhibition is not open to external visitors and is exclusively accessible to the staff of the MPI for Biochemistry and the MPI for Neurobiology.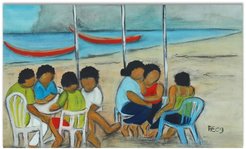 Andreas Eiserbeck is a busy, well-traveled and world-experienced painter. Born in Hildesheim, and matured as an artist in Munich, he now lives and works mainly on the Caribbean island of Martinique. This is also where his tropical lush and lively beach pictures were created, which open the picture part of the imposing artist's monograph. The writer and art critic Dr. Peter Schütt writes in his introduction: "His beach scenes are very tempting to step into the picture and stand next to the painter to look over his shoulder while he is working. The painter and the viewer's point of view move closer together so that a common viewing experience is possible. As a painter, Andreas Eiserbeck never confronts his motifs as an outsider or an external observer. He is always right in the middle of the action, sitting next to the locals on the bench, talking to the bathers, listening to the women whispering to one another. In this way, what he paints becomes a coloristic event. He transforms the visible world into pure painting."