Uli + Onni - "Work in progress"
Update: March 23, 2021
Exhibition from February 6, until April 10, 2020
Update
One year after the artists' exhibition 'Work in progress' at the Max Planck Institute of Biochemistry, Onni Nordman will present new artistic work. The exhibition titled 'Onni Nordman: Max Planck Institute Residency Works' will be shown at the Cape Breton University (CBU) Art Gallery in Canada from March 26 to June 12, 2021. His latest work is based on his learnings at MPIB from his artistic residency at the Institute in February and March 2020, as well as shaped by the pandemic and inspired by his study of biochemical principles. Further information is available at https://www.cbu.ca/community/art-gallery/exhibitions/
---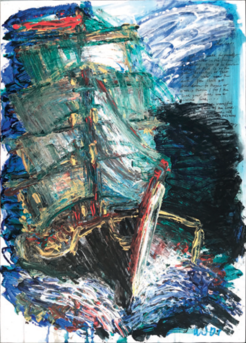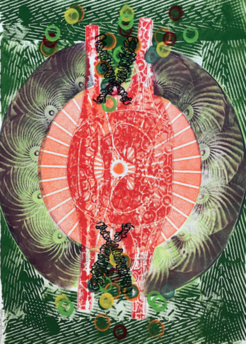 Experience the unique double exhibition of two artist friends! Both show concept art, which brings together in an amazing way! They begin in the Pasinger Fabrik from 23.1. to 1.3.2020. At the same time, a six-month creative process takes place in two research institutes of the Max Planck Society, in the BIOC and then in the IPP with changing exhibitions.
The title of the exhibition is: Uli + Onni
Subtitles: Home Munich + Canada in Germany
Working title: art and basic research, portrait studies and abstract scenes

Uli + home Munich
Uli Schaarschmidt is a Munich painter and comes from the Berlin School. He studied in Weissensee from 1980 to 1987 under Bruno Bernitz and Johannes Richter and was then a master student of Alfred Hückler, cybernetics and aesthetic refinement. Since 1990 he has worked as a freelance industrial designer and painter. "My studies of nature are spontaneous answers to life, while nudes, portraits and sports expand my work. The fascinating thing is to work with colour in free, fast (rushing) hand movements and yet to limit reality again.

Onni + Canada in Germany
Onni Nordman returns to Munich for the Frankfurt Book Fair "Canada in Germany". "My cell studies are paintings that try to create an imaginative framework in which we can reflect on the basis of our biological being. Imagination is not fantasy, but an attempt to understand the real. Essential complex biological mechanisms, which occur in the nanometer range far below the visible range, are ripe for the artist's inductive approach. To see life at work, you have to dream it. While packing the works to Germany for this exhibition, I happened to find three forgotten paintings from twenty years ago. They were attempts to intuitively imagine the nature of cellular life. I pondered over this question for a long time, so I added them to the show. My paintings come unframed and fresh from the studio. This is a conscious decision. The viewer can smell the paint and get close to it." Onni Nordman comes from Cape Breton Island, Nova Scotia, on the east coast of Canada. He studied at the Nova Scotia College of Art and Design (NSCAD).

More information about the artists can be found on:
onninordman.com
onninordman.blogspot.com
schaarschmidt.it
schaarschmidt.gallery

Vernissage: February 6, 2020 at 6pm
Opening hours from 8am to 8pm daily, entrance free.