Karsten Borgwardt becomes director at the Max Planck Institute of Biochemistry
Computational biologist Karsten Borgwardt becomes a Director at the Max Planck Institute of Biochemistry, where he will head the Department of Machine Learning and Systems Biology.
Martinsried. In 2013, at the age of 32, Prof. Dr. Karsten Borgwardt was awarded the highly endowed Alfried Krupp Prize. 2018, FOCUS magazine listed him among 25 Germans who could shape the next 25 years. Now, the Max Planck Society (MPG) has succeeded in recruiting him as a director to the Max Planck Institute (MPI) of Biochemistry. Starting February 2023, Karsten Borgwardt will head the Department of Machine Learning and Systems Biology. "I am very much looking forward to joining the great biomedical campus in Martinsried. Enormous amounts of data are currently being generated in biological research and machine learning holds the potential to gain new knowledge from this data," says Borgwardt.
Karsten Borgwardt is currently a full professor for machine learning and computational biology at the Swiss Federal Institute of Technology (Eidgenössische Technische Hochschule, ETH) Zurich. On February 1, 2023, he will take up his new position as director at the MPI of Biochemistry in Martinsried near Munich. There, he and his Department for Machine Learning and Systems Biology will focus their research on the fields of bioinformatics, biomarker discovery and personalized medicine. With the new department the research portfolio at the MPI of Biochemistry will further expand.
"We are thrilled to welcome Karsten Borgwardt, a leading scientist in the field of machine learning, to Martinsried and we are happy that he has decided to join our institute and campus. The possible connections of his work to our research topics are manifold, and we are looking forward to many exciting collaborations," says Petra Schwille, Managing Director of the MPI of Biochemistry, about the recruitment of the institutes latest member.
Understanding biological processes requires knowledge of various biological units, such as DNA, messenger RNA, or even proteins. All these macromolecules consist of sequences of individual basic building blocks and are related to each other on many levels, like a network. For example, diseases can result from mutations in the genetic information or from certain proteins which are no longer functioning properly, thereby affecting the functionality of the biological network as a whole. There is now a multitude of experimental technologies to explore such biological systems, resulting in large collections of biological data. With the help of Borgwardt's research approaches, these datasets can be systematically analyzed and interpreted. Personalized medicine, for example, strives to predict the response of an individual to drug treatment, using these computational approaches.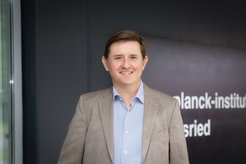 About Karsten Borgwardt
Karsten Borgwardt (born in 1980) completed a master course in biology at the University of Oxford in 2003, as well as a Diplom program in computer science at the Ludwig-Maximilians-University Munich in 2004. During his studies in Munich, Oxford and Canberra, he was a scholar of the Stiftung Maximilianeum, the Bavarian Foundation for the Promotion of the Gifted and the German Academic Merit Foundation. He completed his doctoral thesis at the Institute for Informatics at the Ludwig-Maximilians-University Munich in 2007, which later won the Heinz Schwärtzel Dissertation Award for Foundations of Computer Science. After a postdoctoral employment in Cambridge, Borgwardt became a research group leader for Machine Learning and Computational Biology at the Max Planck Institute for Biological Cybernetics and at the former Max Planck Institute for Developmental Biology (since 2022 MPI for Biology) in Tübingen. In 2011, he was also appointed professor of data mining in the life sciences at the Eberhard Karls University of Tübingen. In 2013, he received the Alfried Krupp Award, which is endowed with one million Euro. In 2014, he was awarded a Starting Grant from the Swiss National Science Foundation. He is and has been coordinating large national and international research consortia for machine learning in medicine, including two Marie Curie innovative training networks and the Personalized Swiss Sepsis Study for predicting sepsis using machine learning. He left the MPG to become an associate professor at ETH Zurich in 2014, where he joined the Department of Biosystems Science and Engineering in Basel. In 2017, he was promoted to the rank of full professor. Now, in 2023, Borgwardt will return to the Max Planck Society as a director and scientific member.