Aus dem Vollen schöpfen - Marion Kausche
Exhibition from September 27 until November 22, 2019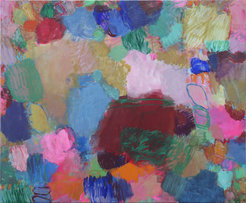 Marion Kausche, artist with studio in the Reismühle Gauting, is known for her abstract, intensely coloured painting. She draws from the full spectrum of colours she produces herself from pigments. Bonded in acrylic emulsion, they are applied as surfaces and structures, sometimes transparent, sometimes opaque in different brush strokes. In between, she also places drawing elements of oil chalk. In this way, the layers of paint are compressed further and further in an often longer process with great playful freedom. Each new layer refers to the previously applied one, allowing partial views of what was previously created, so that the painterly process remains legible. This process must always remain open for the artist for surprises, radical reworkings and the exploration of new painterly terrain. Gradually, multi-layered, differentiated and carefully balanced color spaces emerge. Each picture becomes a world of its own, giving the viewer space for his or her own associations and interpretations.

The works of Marion Kausche are represented in collections of the Bayerische Landesbank, the City of Munich and many others.

Marion Kausche
Marion Kausche, born in 1964, grew up in Planegg near Munich, initially worked as an interior designer in Berlin and Munich for 15 years after her studies at the Rosenheim University of Applied Sciences. During this time, she also always worked artistically: drawings, travel sketches, watercolours and non-objective paintings were and still are part of her artistic work. Further training, especially with renowned artists such as Prof. Jerry Zeniuk, Oskar Koller and Prof. Jo Bukowski, was just as much a part of this on the way to her own expression as autodidactic studies. Since 2005 she has been a full-time freelance artist with her own studio, for over 10 years in the studio community Reis¬mühle Gauting, where she also holds painting workshops.

Numerous exhibitions at home and abroad, studio grant from the Free State of Bavaria, nomination for the Tassilo Prize 2016.
Member of BBK Munich and Upper Bavaria (Berufsverband Bildender Künstler) and GEDOK Munich.

More information about the artist can be found on the homepage www.marion-kausche.de.
There you will also find information about her painting workshops.
Vernissage: September 27, 2019 at 6 p.m.
Opening hours from 8am to 8pm daily, entrance free