Atlas of Feelings
Exhibition from Mai 4 until June 30, 2017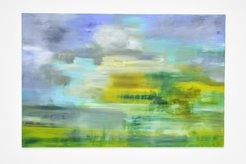 Tanja Mohrs' pictures inspire to expand the own view on the world. The painter shows in her exhibition "Atlas of Feelings" technically elaborate pictures of landscpaes and architecture in which borders merge until they are unrecognisable.
You can visit the exhibition daily from Mai 4 to June 30, 2017. Daily opening hours: 8.00am - 8.00pm
The vernissage takes place on Mai 4 at 6 p.m in the entrance hall of the MPIs.