100 Years of

Neurobiology & 

Psychiatry
Exhibition from March 15th  to April 28th 2017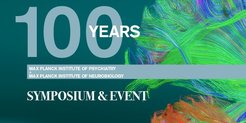 Together with the Max Planck Institute of Psychiatry, the forerunner institute of the Max Planck Institute of Neurobiology, the institute is hosting an exhibition portraying the scientific methods and main areas of focus during the 100 years of its existence.
On twelve panels, visitors can, for example, learn more about the development of anatomy and microscopy, obtain an insight into genetics and epigenetics, or get an outlook on new therapies.
The exhibition is open to visitors in the foyer of the institutes in Martinsried as of March 15. A copy of the exhibition is also on display in the historical building in Kraepelinstreet. Also at this location, visitors can view a 20 m-long timeline portraying the most important stages and personalities in the institutes' history.
Date: March 15th – April 28th 2017
Location: Foyer of the Max-Planck-Institutes in Martinsried, Am Klopferspitz 18, 82152 Martinsried