50 Years Max Planck Institute of Biochemistry
On Monday, April 24, 2023, the celebration of the 50th anniversary of the Max Planck Institute of Biochemistry in Martinsried will take place. We cordially invite representatives of the press to attend.
Martinsried. On March 23, 1973, the Max Planck Institute of Biochemistry (MPIB) in Martinsried was ceremoniously opened by the speech of Richard Naumann, the mayor of Planegg at the time. Today, it is clear that the founding of the institute served as the seed of crystallization for one of the largest and most innovative locations for research in the life sciences in Germany with an international reputation. Now, about 50 years later, the MPIB will celebrate its anniversary in a ceremony on April 24, 2023, starting at 3:00 pm. Information for press representatives can be found below.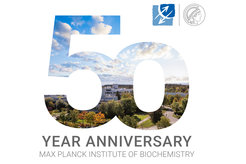 We are looking forward to speeches by the Minister of State Florian Herrmann, the Mayor of Planegg Hermann Nafziger and the President of the Max Planck Society Martin Stratmann. Highlight of the event will be the signing of the golden book of the municipality of Planegg, anecdotes of our founding director and Nobel laureate Robert Huber, as well as a panel talk. After the ceremony, the exhibition 50 Years MPI of Biochemistry will be opened in the foyer of the main building.
Our festive event
On April 24, 2023, we welcome our guests at the Life Science Campus Martinsried near Munich. The ceremony will beginn at 3:00pm, to celebrate the anniversary of our institute. The detailed program can be found on the anniversary website.
The event will be held in German and with simultaneous translation to English. In addition to this in-person event, we offer a live broadcast in Zoom for all interested people, who are unable to attend in person: https://mpi-biochemistry.zoom.us/s/66444594472
Our exhibition
After the ceremony, we will open an exhibition on the history of the Max Planck Institute of Biochemistry in Martinsried in the foyer of the main building. Topics include the fusion of our three predecessor institutes, our researchers and also the future of our campus - come and see for yourself!
The exhibition can be visited by all interested people free of charge from April 26. External visitors are kindly requested to register directly at the reception desk in our foyer upon arrival.
Invitation for journalists
Media interested in participating in the events of April 24, 2023, please register by April 21, 2021, 4:00pm, at the following e-mail address, indicating your name, first name, medium and function: presse@biochem.mpg.de